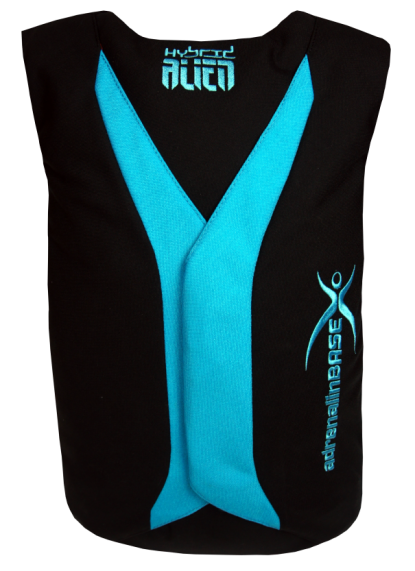 View larger
HYBRID ALIEN
New product
Availability:
Warning: Last items in stock!
Availability date: 0000-00-00
Adrenalin Base present the 4th version of the Hybrid, the Hybrid 3ALIEN.

After adding your product to the cart, download and complete the order form at the bottom of the page and send it to : commande@adrenalinbase.com



AdrenalinBase present the 4th version of the Hybrid, the Hybrid ALIEN.
Keeping and further improving the strong features of its predecessors: ergonomics, strength and versatility, Hybrid ALIEN has been developed from extensive feedback of experience of the model since its creation, from the progress in our Research & Development and our constantly innovative manufacturing process.
HYBRID ALIEN :
Comfort:
even more improved profile, fitting it even closer to the body

optimisation of different sizes to adapt to different chest levels serie) and the container profile allowing better placement of a canopy in the container, reducing exterior folds and guaranteeing the better profile, once the container is closed.
Design:
the container is slightly longer in the body, but still within the standard length, without extension, to avoid the risk of getting a bridle hooked up on low jumps.

no external trim tape - "low drag" - inspired by LD serie

integrated riser covers, as in LD serie

Security:
free corners design offers complete protection of the bridle, as well as improved streamline of free corners form.

slightly rounded bottom corners allow even more comfortable pilot chute access.

The loop placed on the flap facilitates placement of a canopy in the container and reduces the tension on the loops improving container performance on low jumps.

No more bottom loop plate, make it easier to pack while keeping the perfect aerodynamic shape.

Hybrid ALIEN continues the vision of its predecessors: multipurpose and comfortable container, as perfect for in the city, or in countryside.. or in the mountains!
Wind tunnel test

Wind tunnel testing of the Adrenalin HYBRID rig compared to a "classic" rig design, as the ZAK, performed by VKB, summer 2006. With the help of Hans Holmefjord, Oyvind Lokeberg performed as the test dummy, wearing two different suits (track suit & wingsuit). He got lots of data (lift, drag, glide ratio,…) The setup with HYBRID rig showed lower drag in all tests of approximately 10-15 % compared to using the classic design. The reduced drag forces contributed to an overall better glide ratio, between 5 and 20%.
Hybrid ALIEN Standard
Custom Hybrid harness container with color selection


Cordura outside / Standard Parapack inside, offering the maximum strength and durability.




Soft bars

Integrity risers The risers are part of the harness. Light, flexible, simple, ideal for the majority of jumps.

BRT toggles

Dynamics corners

Stainless steel hardware

Front riser dive loops

Hook knife

Two pins bridle

Packing video here


One T-Shirt
Options
ABX harness

: This is a highly recommended option. Read more on ABX
3 ring release: A cutaway system may be useful if you jump near rivers or in urban areas. This system adds a small amount of extra weight to the harness. The cutaway features stainless steel hardware, which is optimized for maximum strength. The cutaway is not compatible with the ABX harness.
Leg pad pockets: These are useful for storing small items. A pocket on each thigh which is closed with a waterproof zip (ideal incase you have a water landing, jumping in the rain or want a water gun battle on the way to the exit).
Personalized embroidery: Add a personalized touch to your container! Although each container can be made individual through the colour choices we offer, we know that some want a little more. This option allows for custom embroidery, all colors available.

Back pad pocket

Additional shipping fees (for a single item): 0.00
| | |
| --- | --- |
| Colorize : | PROPLUS |
| colorSource : | hybrid-alien-abx.json |
Data sheet
| | |
| --- | --- |
| Colorize | PROPLUS |
| colorSource | hybrid-alien-abx.json |