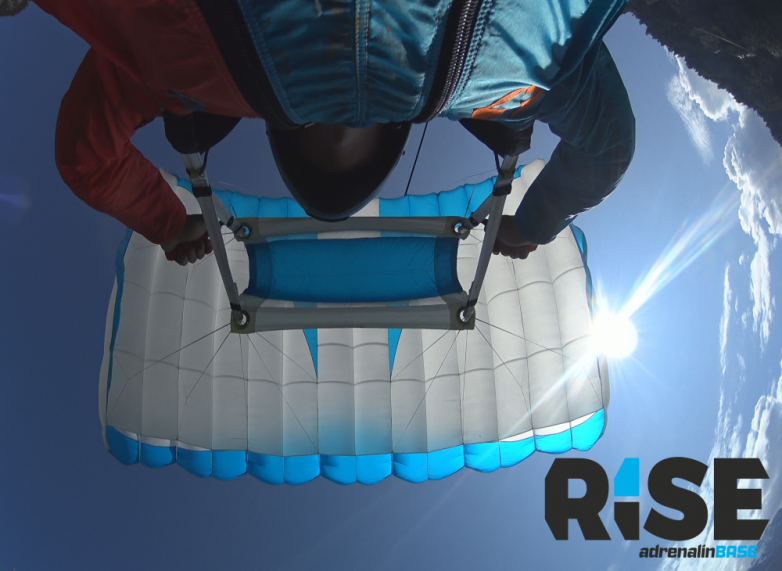 View larger
RISE
New product
Availability:
Warning: Last items in stock!
Availability date: 0000-00-00
2 080 € HT WITH A COMPLETE PACK
RISE Use
Pioneering is our passion and developing new products for BASE jumping has been our focus at Adrenaline BASE for years. A lot of research, testing and development has been placed into the design of the RISE and we couldn't be more proud of this light, compact, slider up canopy. The RISE is designed slider up terminal BASE jumping and is the lightest canopy on the market. We have designed this canopy to be efficient, reliable and with the highest quality in mind at all times just like the fleet of Adrenalin BASE containers. The RISE was developed at the Adrenalin BASE factory in Chamonix, France in the heart of the French Alps. The productions takes place at Sky Paragliders in the Czech Republic with both our teams working together to watch over the canopy being manufactured.
RISE Qualities
Good glider and higher forwards penetration

Reactive, sporty an fun to fly

Precise deep brake flying

Swoop design with a powerful flare
Design Features
Computerised 3D design and laser cut for higher precision in manufacturing

ZP nose maintains predictable flight characteristics and a life long flare

Multiple cross ports on internal ribs to promote equal pressurisation during the inflation stages of opening helping with on heading performance
Continuous control lines reducing the chance of a line over
5 upper control lines for faster turns and higher flare performance
2 brake settings, depending on wingloading
"Z-Pocket" tail pocket the new generation of Tail Pocket
Unique Ribs design for a lighter more compact wing with increased lift during the flare

The main fabric used is Porcher PN9 keeping the weight low and life span long, with CSR Spectra lines


As standard the canopy is equipped with soft links (

B-Links

) and a Slow slider (Terminal)

Technical Specifications
| | | |
| --- | --- | --- |
| | | 3D computerised design for the best performance possible, with laser precise laser cutting of fabric under the correct tension. All sizes are precisely cut from small to large canopies |
| | | |
| | | Unique rib design : the shorter non loaded ribs are a bi - convex share that give advantages for a lighter more compact wing because of the removed fabric |
| | | |
| | | ZP nose : zero porosity fabric to keep continuous and solid flight and flare power for the life span of the canopy |
| | | |
| | | Multiple cross ports on ribs : they are different on the loaded ribs compared to the non loaded ribs to keep structural pressure. All cells are designed with ellipsoidal shape to not deform the top skin |
| | | |
| | | Protective design : the top skin is cut at each individual rib. This design helps to work on fabric tension at each rib (instead of 1 on 2) helping in the aerodynamic performance. The design presents less exposed thread on external stitching avoiding damage when landing or stashing gear. |
| | | |
| | | Continuous brake lines to reduce the chance of tensions knot and 5 upper cascaded lines for faster control, strangers turns and higher flare performance |
| | | |
| | | Mid range bridle attachment : The bridle attachment point has been moved back towards the centre of the canopy between the B and C lines, unlike most canopies that are close to B lines. This feature keeps equal tension on all line groups through the opening and leaves less slack greatly reducing the chances of tension knots. |
| | | |
| | | New "Z-Pocket" tail pocket design for improved reliability |
Additional shipping fees (for a single item): 0.00
| | |
| --- | --- |
| Colorize : | PROPLUS |
| colorSource : | rise.json |
Data sheet
| | |
| --- | --- |
| Colorize | PROPLUS |
| colorSource | rise.json |